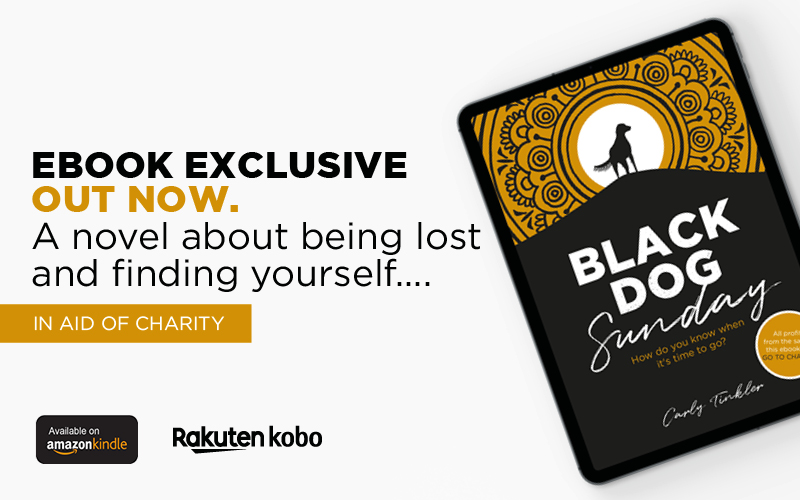 March 8, 2021
International Women's Day: Locked Down or Locked Up?
International Women's Day is a global event celebrating the social, economic, cultural and political achievements of women. The day also marks a call to action for accelerating gender parity. To mark today, we thought we'd share this blog post that reflects upon how lockdown may have negatively impacted some women. One of our authors, Carly Tinkler, catches up with a woman who she met whilst researching 'Black Dog Sunday'.
Late last year, I received a call from Sonia*, a young Somali woman I'd last spoken to in 2012. We'd met at a sixth form college when I was researching my novel Black Dog Sunday and we stayed in touch for a while.
The first thing she said was, "I see your book's been published. Am I in it?"
"Of course," I said. "Well, bits of you, anyway."
She giggled. "Cool, I'll download it. I need something to read right now."
"Are you doing OK?" I asked. "How are you coping with lockdown?"
"It's shit," she said. "I'm in a refuge, with my daughters. They're four and two."
She explained her parents had persuaded her to marry instead of going to university, convincing her she wasn't bright enough (although she got As in three A-levels). After marriage she lived with her in-laws but they treated her like a slave, and her parents didn't want to know. When lockdown began in 2020 the situation quickly spiralled out of control. Sonia wasn't allowed to leave the house – they took away her phone, laptop and passport, using COVID-19 as an excuse, accused her of being possessed by the devil and eventually her father-in-law raped her, encouraged by her mother-in-law. When she told her husband, he beat her up so badly she was in bed for a week. Soon afterwards she was hanging out washing in the garden when she realised that no one would see if she climbed over the fence. She 'grabbed the girls and legged it' to the local hospital, where switched-on staff contacted social care.
After talking to Sonia, I wanted to know more about the effects of lockdown on those in similar situations. Sadly, the evidence shows that for people living under coercive control, the increase in isolation can have catastrophic consequences. In fact, the problems arose early on in the pandemic: for example, between 16th March and 24th April 2020, Karma Nirvana's helpline activity evidenced a 200% increase in overall contacts. Other charities and refuges such as the Sharan Project and Shofni Birmingham – both of which helped with research for Black Dog Sunday – have also been inundated with contacts, and there is nowhere near enough refuge accommodation available.
Crucially, the crisis has exacerbated the lack of access to services for vulnerable migrant and BAME women. According to the Muslim Women's Network UK (MWNUK), "The true scale of the abuse, or risk of abuse, faced by Muslim and BAME women and girls during the lockdown cannot be known because many will be unable to seek help or support."
One service provider said, "Twenty-five percent of the women we support don't even have a phone, let alone a smart phone."
Sonia called me again a couple of weeks ago, still in the refuge. "I just finished your book," she said. "It was amazing."
"Did you get the secret message?" I asked. Although I'd lost touch with most of the individuals who were part of Black Dog Sunday's journey, I'd peppered the book with references I knew only that person would understand, to let them know I was 'waving' at them if they ever read it.
She laughed. "Yes, the socks!"
"Have you decided what you'll do next?"
"Not sure. I'll wait till lockdown's over then look at my options. I might even write a book! Seriously. But not about my past life – what do they call them – misery memoirs? I'll make up the story of my own future, exactly how I want it to be. You can help me with structure and plot, if you want."
"I'd love to," I said. "Happy ending guaranteed!"
Proceeds from Carly's book are going to The Roshni Project, Karma Nirvana and Sharan that work to help women affected by domestic violence, honour-based violence and forced marriages. It is so important to celebrate and support women every day and particularly on International Women's Day.
* some names have been changed and situations altered to protect identities
ABOUT KARMA NIRVANA
Karma Nirvana is an award-winning national charity supporting victims of honour-based abuse and forced marriage, founded in 1993 by the survivor, activist and author, Jasvinder Sanghera CBE.
ABOUT ROSHNI BIRMINGHAM
Roshni is a Birmingham-based charity providing safe emergency accommodation, for South Asian women and children fleeing domestic violence, honour-based crimes and forced marriages, and ongoing education and support.
https://roshnibirmingham.org.uk/
ABOUT THE SHARAN PROJECT
The Sharan Project, founded in 2008 is a UK-based charity recognising the need for long-term support for vulnerable women, particularly of South Asian origin, who have been or are at risk of being disowned due to abuse or persecution as a
result of forced marriage and honour-based abuse.
ABOUT THE MUSLIM WOMEN'S NETWORK UK
MWNUK is an award-winning, national Muslim women's organisation that has been advancing equality, promoting women's empowerment and connecting voices for change for over 16 years.
Featured Publications