Oxford Blues
Paperback (signed), Hardcover (signed) ISBN - 978-1-903360-47-8, 978-1-903360-53-8
£8.99 – £18.99
Oxford Blues
Johnson & Wilde Crime Mystery 3
Book 3 in the Johnson & Wilde crime mystery series and Jack and Nina are in Oxford – but what lies beneath Iffley Lock?
"An intriguing setting and a central character who drew me right into his world"

-Stephen Booth
Winter onboard a narrowboat can be a cold and lonely affair and Jack Johnson is keen to catch up with Nina Wilde, who has moved to Oxford to be near her niece, Anna, an undergraduate at the university, and rekindle the spark of their on-and-off relationship. Moving his boat Jumping Jack Flash from Bath and straight into the heart of the city of the dreaming spires, Jack's relief at seeing Nina is soon tempered. Rather than growing closer, they seem to be drifting apart. Throwing himself into the job search, he's soon busy enough to try to ignore his disappointment.
Then a young girl's body is dragged up from Iffley Lock by magnet fishermen and trouble comes to call once more. Ophelia McVeigh went missing days ago, and her boyfriend, Caleb Hopper, falls under suspicion. Cal is Anna's good friend, an American post-grad student and a promising member of the blues rowing team. Devastated by the loss of his girlfriend, Nina is determined to help the young man, pulling Jack into the investigation reluctantly in her wake.
And Jack's got his own mystery to solve. What's the story behind the old college barges that seem deserted except for late-night visitors by motor boat? Pulling on that strand will unravel a complex web of deceit…
Praise for Andy Griffee
"Great fusion of the steamy and bucolic, Oxford from the water is a different place from Morse-land"
– Dominick Donald, Sunday Times bestselling author of Breathe
"Oxford Blues, the third instalment of the Johnson & Wilde series, is a thoroughly engaging mystery that builds to an unexpected conclusion. Arguably his best yet"
– Amelia Hamson, Waterways World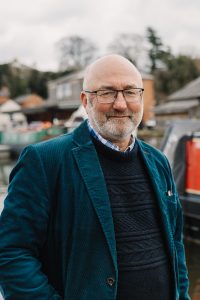 About the author
Andy Griffee is a former BBC journalist and media consultant with a fascination for stories. He began his journalism career at the Bath Evening Chronicle, and then spent twenty-five years at the BBC, culminating in his role as Editorial Director of the redevelopment of Broadcasting House.
Andy lives in Worcestershire and, when he isn't writing, rears rare breed pigs, struggles to keep a 1964 Triumph Spitfire on the road and enjoys hiring narrowboats with his wife Helen.