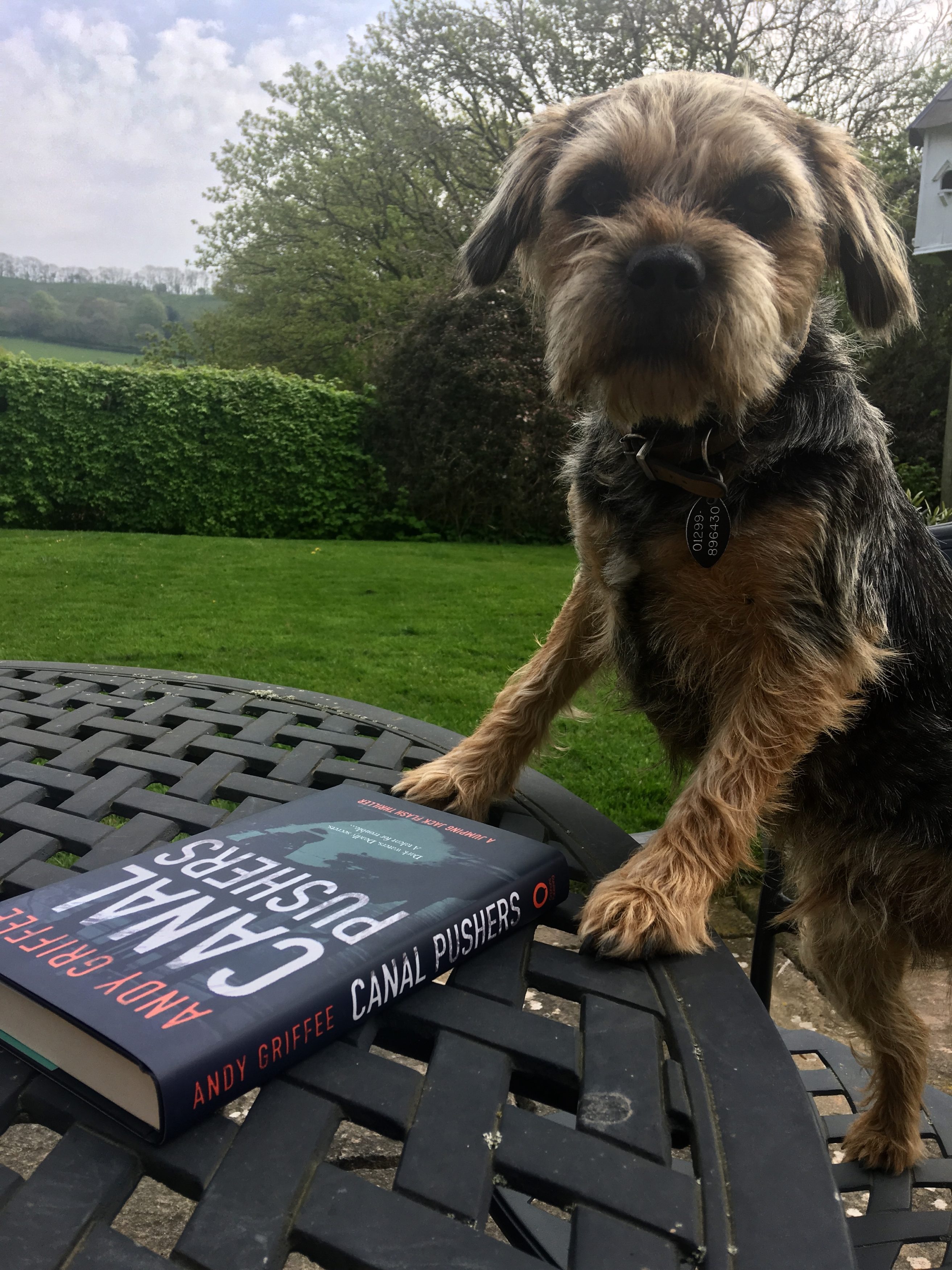 May 31, 2019
Eddie
Buster: Today I'm talking to Eddie, a two-year-old border terrier who assists our author Andy Griffee with his writing. We're talking daily routines, favourite walks and top tips for the snacks that keep the inspiration flowing.
Eddie, tell me about your average daily routine on the job.
Andy usually comes down in his dressing gown to let us out first thing. I share a basket with another border terrier called Phoebe. She's smaller than me but a year older and quite bossy. There is also Fitz, who is a big muscular English Springer Spaniel. He's eight-years-old and very jealous around Andy. He has his own basket in the study under the snooker table. After breakfast and a run around the garden we all head off in Andy's car to the River Teme. It is only 5 minutes away and we have a great run along the river bank and back for about an hour. Andy gets ridiculously excited when he sees a kingfisher and then he gets cross if I get too engrossed in a rats' nest by the barns. He needs to chill out a bit. You should see him get red-faced when Phoebe rolls in badger poo.
Then we come back home and Andy sits in the study and stares at a blank computer screen for hours. I usually wander off and mount guard to make sure no squirrels try to get nuts out of the bird-feeders. This is a very important job that takes a lot of concentration. Andy has told me that I'm about to be famous as there's a border terrier called Eddie in his debut novel, Canal Pushers. Apparently, I belonged to a homeless young man who is drowned by a serial killer and so I am adopted by his hero, Jack Johnson. It all sounds a bit far-fetched to me, but I'm pleased he chose me to be in the book rather than the other two. I even did a photo-shoot recently on a canal towpath – but it was a bit boring being on the lead and I couldn't even chase the ducks.
He usually stops staring at the screen at four o'clock and takes us around the edge of a meadow and a little wood that is part of Andy's house. Sometimes, I get a bit distracted by rabbits on this walk but then I remember it is teatime and make my way home in my own time.  After tea, Phoebe and I chase each other madly around the garden while Andy cooks dinner for Helen and then we try to play tug-of-war with him while he is trying to watch the news.  Then we all settle down on the sofa for the evening and I manage to get onto Helen's lap in spite of Fitz growling like a grumpy old dog.
We have another run in the garden before bed – and sometimes I think it's a great game to go and hide in the bushes until Andy comes out to find me. That's when he moans that I'm a border-terrorist. Andy says I'm in his second book too, so I think I'm going to find an agent now and ask for some of the royalties. I think I'd like them to be paid in gravy dog biscuits.